Unlock Data-Driven Deal Sourcing
Get visibility on the latest funding rounds, uncover future founders, track stealth startups, and discover the latest trending products.
You're funding the next 🦄, and we're here to help you find the needle in the haystack.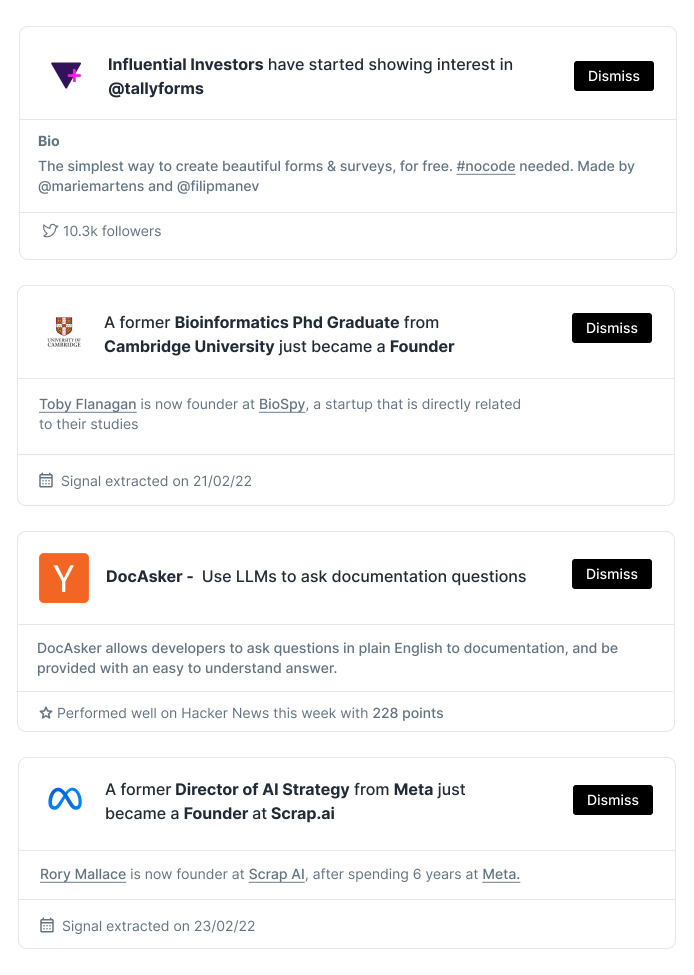 Talent Signal
Track & Identify current or future exceptional Entrepreneurial talent
Understand when the worlds smartest people start new companies, from the earliest possible opportunity.
Unicorn Employees.

They helped build some of the worlds fastest growing companies, and now they're setting up on their own.

Big Tech Talent.

Get visibility when senior talent leaves big tech to build their own startups.

Academic Founders.

Source early stage deep tech companies by tracking when academics start commercial endeavours.


Product Signal
See what products are trending, or exploding in growth
Our product signal help you get an understanding of software that's starting to make moves, whether it's building strong waitlists, or showing signs of commercial PMF.
Github Repositories.

Track the fastest growing github repositories and identify up and coming frameworks, open-source projects, and dev tools.

Revenue Tracker.

Identify companies that are starting to get their first paying customers, with revenue verified by Stripe.

App Store Intelligence.

Understand when apps start breaking out and becoming viral


Social Signal
Next-Level Social Graph Insights
Our social signal helps you identify startups, founders and investors that the most influential people in venture have started paying attention to.
Super Early Adopters.

Follow the activity of early adopters in the venture space to see the latest products they're raving about.

Investor Interest.

Get visibility on what others investors in the early stage market are showing interest in.


Become a data driven investor
We're currently onboarding a small number of early stage institutional investors to our dealflow intelligence platform.